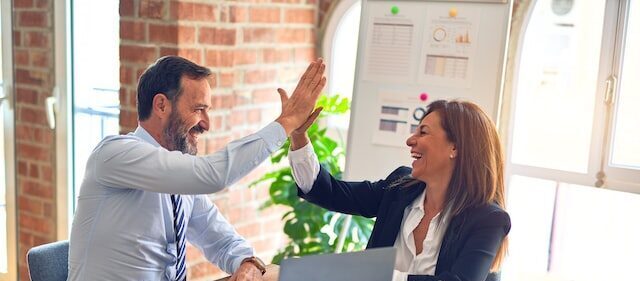 Talent Sourcing - we will find you a top talent!
Talent Sourcing is a service which only involves finding and reaching out to candidates with specific competences in selected location. Through our service, the client's HR department secures constant access to quality applications from candidates for selected roles. The verification of the application and the first contact with the candidate can be (to be determined) on our side or on the client's side. The service is flexible and tailor-made. Our Talent Sourcing Team is supported by recruitment marketing campaigns.
Buckle up and wait for quality candidate applications. The Tap.Talent Sourcing Team knows what to do.
How does the Talent Sourcing process work with Tap.talent?
We start the Talent Sourcing process by defining the requirements of the vacancy/ies. The Sourcing Team then carries out an analysis, as a result of which we identify groups of candidates who match the requirements of the job description.
The way Talent Sourcing services are delivered is as follows:
– Database searches
– Searches on professional portals
– Searches on social media platforms
– Search via web browsers
– Communication with potential candidates
– Preliminary assessment of qualifications
Speed up the recruitment process by giving your HR team the best candidates in less time.
Advantages of the Talent Sourcing service:
Ensuring a constant flow of applications 

Increased time to delivery of candidates 

Guarantee of continuity of recruitment process 

Sourcing candidates from outside the traditional recruitment channels
Write to us and let's talk about how the Tap.Talent team can help you sourcing and hiring.
FAQ
Why use Talent Sourcing?
Engaging in talent sourcing helps companies create a more diverse pool of candidates because they don't have to rush to fill open positions with the first most qualified candidate. Instead, they already have a pool of qualified individuals, which gives them time and more opportunities to fill positions with more diverse talent.
Recruiters know that the search for talent takes a lot of time and diligence, yet it is one of the most important aspects of the business. Fortunately, with so many advanced tools at our fingertips, searching for quality candidates no longer requires countless hours of work.
What are the benefits of hiring an agency for the Talent Sourcing process?
Recruiting passive candidates has many advantages, but sourcing the right talent pool takes time and resources. Below is a list of the most important benefits of talent sourcing.
1. Higher quality of newly hired employees:
By using talent acquisition methods, you can select your preferred inquiries. This means you can target candidates in a specific location or with specific qualifications, and even those who are financially motivated. The number and type of variables you choose is entirely up to you.
Whether you target passive or active candidates, the results will yield fewer unqualified candidates and a list of better-qualified people who are likely to be up-to-date on the latest tools in their industry.
2 Increases efficiency:
Statistics show that talent acquisition increases hiring efficiency by more than double and reduces overall recruitment costs. While the average hiring time is 36 to 52 days, this time is reduced by talent acquisition. This is because talent acquisition focuses on reaching the right talent pool and building relationships with those individuals. To identify such a target, it is necessary to learn something about these individuals (i.e., their interests, skills, talents, etc.).
Often, when reaching out to passive candidates, even if they are not initially interested in a career change, you have introduced yourself as a recruiter and shown interest in them and their work situation. This is often enough to convince them later, thus enabling them to be hired quickly and appropriately in the future.
Talent acquisition is also a great way to build your brand. You certainly know the repercussions of hiring the wrong candidate. In addition to wasting time and money on recruitment, it also comes at a cost to clients and a dissatisfied Candidate. By implementing the right methods and tools, your efforts will eventually pay off and the results will speak for themselves.
How does an agency identify and source potential candidates?
Talent sourcing agencies use a variety of methods and strategies to identify and source potential candidates. Here are some common ways they may use:
Labor market research: Agencies monitor the labor market, analyze industry trends and identify potential talent sources. They may use a variety of tools and platforms, such as specialized job sites, social media, industry groups, etc.
Proactive search: Agencies may conduct a proactive search for candidates, also known as "headhunting." They use various tools and techniques, such as database searches, tools that analyze job profiles, and networking activities, to identify and contact potential candidates who meet specific requirements.
Leveraging networks: Talent acquisition agencies often have extensive professional networks. They can leverage these relationships, making contact with recommended candidates by others, including previous employers, employees, suppliers, business partners, etc.
Recruit active and passive candidates: Agencies can conduct recruitment campaigns targeting both active, i.e., job-seeking candidates, and passive candidates who are not actively looking for work. They can use various communication channels, such as websites, social media, newsgroups, etc., to reach as many potential candidates as possible.
Candidate analysis and evaluation: Talent acquisition agencies conduct an initial analysis and evaluation of candidates to ensure they meet certain requirements. They may conduct interviews, check references, and evaluate candidates' skills and experience.
Building long-term relationships: Agencies strive to build long-term relationships with both candidates and employers. This allows them to keep in touch with candidates who are not immediately interested in job opportunities, but may become interesting in the future.
What are the criteria an agency uses to select potential candidates for recommendation?
Talent acquisition agencies are guided by various criteria when selecting potential candidates for recommendation. Here are some of the main criteria that may be considered:
1. skills and experience: Agencies evaluate candidates' skills and experience in the context of a specific position. They look for people who have the right skills, knowledge and experience needed to perform the job in the position.
2. Compliance with the requirements of the position: Agencies consider the requirements specified by the employer for the position. They assess whether candidates meet these requirements in terms of qualifications, technical skills, level of education, etc.
3. organizational culture: agencies try to match candidates with the company's organizational culture. They pay attention to values, principles and work style to find candidates who will fit into the organization.
4 Motivation and commitment: Agencies look for candidates who show motivation and commitment to their work. They assess whether candidates are interested in the industry, the position and have the right motivation to succeed.
5 Communication and interpersonal skills: Agencies pay attention to the communication and interpersonal skills of candidates. They look for people who have good interpersonal skills and can communicate and cooperate effectively with others.
6 References and recommendations: Agencies check references and recommendations from previous employers, co-workers or others who have had contact with the candidate. Having good recommendations can influence an agency's decision.
What industries and sectors are served by a Talent Sourcing recruitment agency?
Talent Sourcing recruitment agencies can serve a variety of industries and sectors. Their scope of activities can cover virtually any industry, depending on their specialization and expertise. Here are some examples of industries and sectors that are often served by recruitment agencies:
Technology and IT: The technology and IT industry is one of the main areas of activity for Talent Sourcing agencies. They support the recruitment of IT professionals, programmers, network administrators, software engineers and other technology-related professions.
Finance and banking: Recruitment agencies can serve the financial sector by recruiting specialists in accounting, auditing, financial control, risk management, investment banking and other related areas.
Engineering: Positions include recruiting production planning specialists, production engineers, maintenance automation specialists, production managers, health and safety specialists.
Does the agency guarantee to find suitable candidates?
The employer selected the candidate presented by the agency for employment and paid the agency's fee. Before the candidate took up employment the trace of him disappeared. The employer was left without a candidate; he paid for the service of the employment agency. What now? Guarantee.
In the case of a guarantee, too, there are no specific rules that specify what a guarantee is. The parties can agree on any scope of the guarantee, and naturally they may not use it at all. The guarantee I used consisted of an additional presentation of candidates who meet the necessary requirements of the employer.
As a rule, we encounter three basic forms in the market:
Re-presentation of X candidates within Y period counted from the notification of the guarantee.
Presentation of candidates from among which the employer will hire the candidate.
Reimbursement of part or all of the salary paid to the employment agency.
How long does the Talent Sourcing process take?
The Talent Sourcing process is an ongoing process. We are constantly building our candidate base for specific profiles in IT, SSC/BPO, finance, accounting, engineering, sales, marketing.
Does the recruitment agency guarantee the confidentiality and security of candidate data?
As a recruitment company, we are the bridge between our clients and candidates. With this in mind, we ensure the highest level of professionalism in our cooperation for both parties.
Our Candidates, can be assured that during the implementation of recruitment projects we will provide them with:
Confidentiality and discretion – All data and information provided to us by Candidates is of particular importance to us and treated as confidential. Information provided to us in written or verbal form is used only for the purposes of the recruitment project being carried out and is not shared with third parties. Our Consultants are trained in data confidentiality and confidentiality when conducting recruitment projects.
Security – we comply with RODO regulations. Our Candidates' resumes are securely stored in the Candidates' database, which is a registered dataset with GIODO. Candidates must give their consent to the inclusion of their professional profile in our database and, in accordance with applicable law, have the right to inspect and amend their data.
What are the next steps in working with a recruitment agency under Talent Sourcing?
After receiving a recruitment order, the agency begins the recruitment and selection process to find the most suitable candidates. Recruitment consultants then interview the selected candidates and, after the interview, present the client with the profile and recommendations of the candidate in question. It can also help arrange interviews with the Client and administer the entire process.
Is the recruitment agency only involved in sourcing candidates, or does it also conduct the selection and evaluation process?
Waiting for the flow of applications through ads on portals or in the press, are no longer enough. And if we want to get people who are not looking for a job we should go out with active recruitment ourselves, which is exactly what the headhunters at Tap.Talent do. Many recruiters, in order to close a successful job recruitment, must act proactively, quite similar to salespeople actively presenting a job offer.
Passive recruitment – ads – selection – qualification process – selection – doesn't always work or ends up with no suitable candidate. The market is chasing trends, and our recruitment agency is discovering more and more effective recruitment and research methods. See if our know-how can effectively find an employee for you.
We are recruiting and headhunting, we are proactive, we provide training for proactive recruiters, we are practitioners and teach methods for selecting employees and conducting the recruitment process, we have our own effective methods for each stage of recruitment.