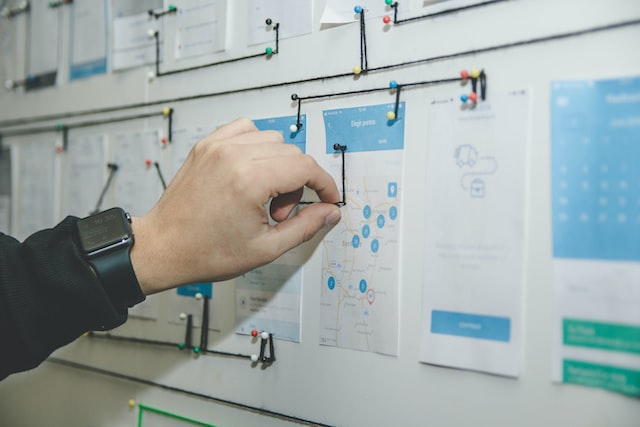 RPO - we'll do it for you!
Recruitment Process Outsourcing (RPO) is a solution where all or selected recruitment processes are passed to an external company. RPO is one of the most effective and fastest solutions, where an experienced recruiter or a whole team of recruiters appears at the client's premises ready to work and equipped with all possible recruitment tools.
You gain a dedicated and experienced team of recruiters, as well as access to our expert knowledge, network of contacts, recruitment tools.
Thanks to the RPO service, our clients gain the ability to quickly expand their Recruitment Department without incurring the costs of hiring and implementing new employees into their organisation. With this approach, the Tap.Talent team becomes part of yourorganisation and is responsible for the implementation of strategic hiring plans. Whether it's setting up a new office or growing your existing your organisation, we can provide a cost-effective, flexible, cost-attractive and efficient recruitment solution that allows your HR department to focus on other business tasks.
Main advantages of our RPO service:
Significant reduction in hiring time – up to 3-5 weeks
Savings of 20-40% of total recruitment costs
Access to a comprehensive database of candidates
Dedicated recruitment team or Recruiter working exclusively for the client
Administrative and legal support during the project
Support activities including recruitment marketing or employer branding
Access to market expertise – trends
Management of all recruitment work
Thanks to the RPO service, our client can focus on his core business, while we take care of the full recruitment cycle. Our service helps save our clients time and money and provides them with a quality recruitment service.
Benefits of the RPO model
Saving time and money: With the RPO service, your company can save time and money that would have to be spent on setting up a recruitment team and running recruitment processes.
High-quality recruitment services: The team of recruiters available through the RPO service is experienced and has the necessary knowledge and skills to provide a high quality recruitment service.
Flexibility: the RPO service is flexible and allows companies to tailor services to their individual needs and requirements.
Focus on core business: With the Recruitment Process Outsourcing service, a company can focus on its core business and a team of recruiters will handle the recruitment processes for it.
Achieving business goals: With a high-quality recruitment service, a company can achieve its business goals, such as hiring the right people and building a strong team.
If you are looking for an efficient and effective Recruitment Process Outsourcing service, please email us and let's talk about how the Tap.Talent team can help your organisation.
FAQ
What are the benefits of using RPO services?
Benefits of recruitment process outsourcing
Depending on what an organization is looking for, an RPO solution can provide a number of benefits, including:
1. reduced time to hire: RPO helps reduce the time it takes to fill vacancies by effectively sourcing and screening candidates. RPO providers have the knowledge, tools and resources to quickly and accurately identify the right talent, reducing recruitment time.
2 Access to experts: Third-party RPO providers have experience and expertise in the recruitment field. By using their services, a company can benefit from the expertise of professionals who are up-to-date on the latest recruitment trends and have the skills to source and evaluate candidates.
3. Scalability and flexibility: RPO allows a company to adapt its recruitment resources to changing business needs. In the event of increased demand for employees, the RPO provider is able to scale up recruitment efforts by providing the right resources and expertise.
4 Cost optimization: RPO can help significantly reduce the costs associated with recruitment processes. Instead of maintaining in-house recruiting teams that require significant financial outlays for salaries, training, tools and technology, a company can take advantage of a flexible RPO model where fees are typically based on contract and performance. This allows the organization to save on fixed costs while reaping the benefits of professionally managed recruitment processes.
5 Increase quality of employment: RPO not only helps find the right candidates, but also focuses on ensuring that they are the most suitable people for the job. RPO providers conduct careful vetting, competency assessments and perform in-depth selection processes to ensure that the candidates presented meet the company's requirements and values. As a result, the company can be confident that it is hiring highly qualified employees, which translates into increased team quality and overall organizational performance.
Why should I consider outsourcing the recruitment process?
The greatest asset of recruitment agencies is their knowledge and experience. Thanks to this, the recruiters working for them, can use advanced methods to attract candidates. Recruitment marketing performed by them allows the use of unique sources of personnel acquisition, which is many times more effective than commonly used methods.
Hiring a recruitment agency involves expenses, of course, but they are transparent and easy to plan. Entering into cooperation with such an institution, we are informed at the outset of the cost of services, which are matched to the volume of recruitment. In the case of independent recruitment activities, requiring the secondment of an employee or the employment of an extensive human resources department, the final cost will be considerably higher than in the case of engaging a specialized external company for this task.
Hiring a recruitment firm also has another advantage; it reduces the time it takes to recruit. In some cases, it can take less than 2 weeks from hiring an agency to signing a contract with a new employee. Of course, most of the time is a bit longer, but it is still shorter than in traditional recruitment methods, as the agency itself is keen to carry out the process efficiently.
Although the employer puts the recruitment in the hands of an external company, he still has a lot of control over the process. Before outsourcing, an interview is conducted, in which the requirements for candidates are specified in detail. At each stage of the recruitment process, the client is informed of the progress and the goals achieved. Also, the final decision to hire the selected candidates depends solely on the employer.
The last aspect worth noting when considering outsourcing recruitment is its impact on the company's image. Ineptly conducted recruitment can result in discouraging the best talent, which the employer should care about the most, from taking a job. At the same time, such situations often reflect on the good name of the company, because in the age of the Internet, we are only a few clicks away from obtaining opinions about the employer. Recruitment agencies care about the full professionalism of their services, since not only the reputation of their clients is at stake, but also theirs.
What are the key steps in the RPO process?
When deciding to outsource recruitment "in-house", we can use different RPO models (comprehensive RPO or selective RPO). However, before deciding on one of them, it is worth knowing the characteristics of the various stages of the entire process. Once we have compiled this information and defined our needs, choosing the right solution for our company will be much easier.
1 Developing a recruitment strategy.
Planning the entire recruitment process with a breakdown of the various stages, setting milestones. Creating, in cooperation with the client, a competency profile of the candidate and a job description.
2 Recruitment marketing
The HR consulting agency proceeds with the talent search. It reaches potential employees through various channels: social media, industry portals, as well as through its own network of contacts. Ways and sources of acquiring candidates are selected depending on the needs and specifics of a given recruitment. Communication is carried out in accordance with the employer brand strategy.
3. assessment of candidates. Preliminary interviews.
Appropriate selection of candidates in the recruitment process is the key to ensuring that the position is filled by a person with the right competencies, motivation, matched to the company's organizational culture.
Various tools are used to evaluate candidates, such as language tests, psychometric tests, and competency tests.
4 Reporting
The client receives regular reports from the recruitment agency outlining the progress of the sourcing process, including a description of the selected candidates.
5 Further selection – decision-making and coordination support.
The employer conducts interviews with selected candidates. At this stage, the agency provides assistance in coordinating these activities and then supports in decision-making.
6. negotiation, signing of the contract with the employee
At this stage, the task of consultants from the recruitment agency is to support the client in negotiations with the new hire. This is done by building a balance between the expectations of the candidate and the best interests of the future employer.
7 Substantive support and assistance with onboarding
RPO is not just about hiring employees. The aim of the service is also to streamline and standardize the entire recruitment process in the company, optimize costs, implement technologies to support recruitment. HR consultants share their knowledge and experience helping to organize and streamline activities in this field, including those related to onboarding of employees.
Does the agency customize the RPO process for my company?
We always try to customize the RPO solution for a particular client. We are guided by his individual needs, expectations and try to work out the most optimal solution.
How long does a typical RPO process take?
The recruitment process outsourcing (RPO) process involves contracting an external recruitment company to conduct the recruitment and selection process for a client. The duration of such a process depends on a number of factors, such as the type and number of positions to be filled, the specifics of the industry and labor market, the client's expectations and requirements, the availability and quality of candidates, as well as the efficiency and communication between the client and the RPO contractor.
There is no definite answer to the question of how long a typical RPO process takes, as each project is different and requires an individual approach. However, it is possible to distinguish several stages that are common to most RPO processes:
– Analyzing the client's needs and expectations and preparing a recruitment strategy
– Building a database of potential candidates through various channels and tools (e.g., advertisements, social media, referrals, headhunting)
– Conducting pre-selection of candidates based on resumes, tests or phone interviews
– Inviting selected candidates for interviews with RPO and/or client representatives
– Verifying references, checking candidates' competencies and skills (e.g., through practical tests, case studies, assessment center)
– Presenting job offers and negotiating terms of employment with final candidates
– Providing support and care for candidates during the onboarding process
Depending on the scale and complexity of the RPO project, each of these stages can take from a few days to a few weeks. On average, it can be assumed that a typical RPO process takes about 2-3 months from the time the contract is signed to the time the employees are hired. Of course, this time can vary depending on the labor market situation, the availability of candidates and the client's flexibility and commitment.
What are the qualifications and experience of recruiters working on the RPO process?
Recruiters working on the RPO process must have the necessary qualifications and experience to ensure quality service and customer satisfaction. Some of the required competencies are:
– Knowledge of the labor market and the industry in which the client operates
– Ability to build and maintain relationships with candidates and clients
– Knowledge of recruitment techniques and tools to support the RPO process
– Ability to analyze client needs and expectations and match candidates to positions
– Communication, negotiation and presentation skills
– Ability to work under pressure of time and targets
– Ability to work in a team and collaborate with other recruiters
Recruiters working on the RPO process may have different levels of experience, depending on the scope and scale of the project. In any case, recruiters must be ready to continuously improve their skills and knowledge to meet the changing demands of the market and clients.
Does the Tap.Talent agency provide support for candidates from outside the local labor market?
Does the recruitment agency provide support for candidates from outside the local labor market? This is a question that is often asked by employers who are looking for the best professionals to join their teams. Recruiting remotely can be a challenge, but it is not impossible. In this article, we outline some advantages and tips on how to successfully conduct a recruitment process involving candidates from other regions or countries.
Recruiting candidates from outside the local labor market has many advantages, such as:
– Widening the pool of potential employees. By not limiting yourself to one location, you can reach more people with different competencies, experience and qualifications.
– Increasing the chances of finding the perfect match. By recruiting candidates from different backgrounds and cultures, you can better match them with the company's needs and values, as well as with customers' expectations.
– Strengthening the company's image as modern and open to the world. By showing that the company is ready to work with people from different places, you can build a positive image and attract more talent.
– Increasing the flexibility and adaptability of the team. By working with people from different time zones and working conditions, you can learn to better manage time, communicate and solve problems.
Does the agency use technology tools to streamline the RPO process?
Is the agency using technology tools to streamline the RPO process? This is a question that every client who wants to use recruitment services should ask themselves. Technology tools, such as applicant tracking systems, competency testing platforms, data analysis tools or artificial intelligence, can greatly improve the quality and efficiency of the RPO process. They can help the agency find, assess and select candidates more quickly and accurately, and better match them to the client's needs and expectations. Technology tools can also help build relationships with candidates, improving communication and engagement. In this way, the agency can increase its competitiveness and credibility in the recruitment market.
Does the agency offer services outside the standard RPO process, such as market research or competency assessments?
This is an important question that any client who is considering working with a recruitment firm should ask. The RPO process involves the agency taking over responsibility for all or part of the recruitment and candidate selection process. This is an advantageous solution for companies that want to optimize the cost, time and quality of recruitment. However, not every RPO agency is the same. Some offer additional services that can be useful for clients who are looking not only for employees, but also for information about the labor market, competition or trends. For example, an agency can conduct market research to identify the best sources of candidates, determine salary expectations and benefits, and examine employee satisfaction and loyalty. The agency can also offer competency assessment of candidates, which involves testing their knowledge, skills and attitudes using various tools such as tests, simulations or interviews. Competency assessments help select the best candidates for a role and provide them with appropriate support and development. Services such as market research or competency assessments can be of great value to clients who want to have a complete picture of the labor market and provide a competitive edge. That's why it's a good idea to ask an RPO agency about the scope of its offerings and how it provides additional services.
How can I monitor the progress of the RPO process?
Recruitment metrics are a key part of the process, as they allow for accurate monitoring and incremental improvements.
The best course of action is to have a dashboard with several key metrics: quality of source, number of interviews to hire, number of qualified candidates for each position, cost of recruitment, candidate satisfaction.
Is the agency capable of handling recruiting at different job levels and in different industries?
This is a question that is often asked by employers who are looking for the right talent acquisition cooperation partner. The answer to this question is not clear-cut, as it depends on many factors, such as:
– competence and experience of recruitment consultants,
– the resources and tools available to the agency,
– the specifics of the labor market and the industry in which the client operates,
– the type and scope of recruitment services that are needed.
Some recruitment agencies specialize in specific industries or functional areas, such as IT, finance, sales, marketing, HR. Others offer recruitment services for various levels of positions, from specialists and managers to executives and managers. Still others provide comprehensive recruitment services, including both permanent and temporary recruitment, recruitment process outsourcing (RPO), HR consulting, assessment of candidates' competence and potential, training and coaching.
The choice of a recruitment agency should therefore be made after a thorough analysis of the client's needs and expectations, as well as the agency's capabilities and offerings. It is important to check the references and opinions of other clients and to study the portfolio of projects carried out. Attention should also be paid to the agency's method of communication and cooperation, as well as the quality and fit of the candidates it presents. Ultimately, the decision to choose a recruitment agency should be based on trust and partnership, which will guarantee efficiency and satisfaction in achieving common goals.
Can I test RPO services on a small scale before committing to full cooperation?
As a potential client, you may be interested in testing recruitment process outsourcing (RPO) services on a small scale before committing to full cooperation. This is understandable, as RPO is an investment that requires trust and commitment. That's why we offer you flexible and customized solutions to test the quality and effectiveness of our services. We can offer you the implementation of one or several recruitment projects, which will be carried out by our team of specialists according to your expectations and standards. In this way, you will be able to evaluate our competence, methodology and tools, as well as establish a relationship with our consultant dedicated to your company. If you are satisfied with the results and want to continue the cooperation, we can move to a full RPO model, which includes comprehensive service of recruitment processes in your organization.